Saturday Telegraph
Reader Offer
Welcome
We are Rocknife, the team behind the new name in beautiful Kitchen Ceramic Knives for your home or workplace kitchen.
We are driven by the desire to be better, instincts for good designs, a strong ambition to make a difference in kitchenware and the willingness to embrace new manufacturing processes.
Don't miss out on our sharpest offer yet
DO NOT READ this if you like having blunt, dull knives in your kitchen…
Don't waste another second of your valued weekend if you are not interested in the knife revolution that is happening in kitchens across the UK. If you're still here, then welcome to Rocknife! – The latest in Ceramic blade technology.The incredible sharpness of our knives brings a new level of satisfaction to slicing and preparing food. Made from hardened Zirconium Oxide (ceramic) our knives are far sharper than steel and stay sharp for many years. With eye-catching design, elite quality and beautiful craftsmanship, Rocknife is a must for anyone who enjoys cooking. They also look devilishly good in your kitchen.
Our Special Offer
Three offers in one, here are the details:
A headline 30% off the Recommend Retail Price - on our entire range of Rocknifes
A FREE gift for the first 100 sets sold - we'll give an extra 3" Rocknife away with every set sold
We don't believe in Postage costs - so they are all FREE - no more shipping costs - the price you see if the price you pay.
To get your special offers - hurrah, don't delay, use the coupon code teleg1 on the Shopping Basket and we'll do the rest.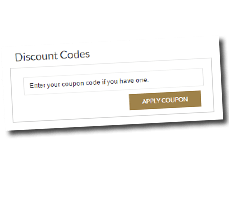 So - the time has come and you want to buy a Rocknife - we love you guys - the first thing to do is to add something to your Basket. Once you've added any product you can see the Basket Page - at the bottom in the centre there will be a large box marked Discount Codes - enter in whatever code we have given you and hit the 'Apply Coupon' button. If everything is well your discount will be applied.
We've also given you a Shipping & Tax Estimator - but guess what - All Delivery is Free to the UK - you should be fine.
In the Press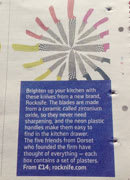 The Sunday Times Style Section
Rocknife were selected by XXX who loved our Ceramic Knives she just had to include them in the Sunday Times Home Supplement on the prestigious and well known Style pages.
Kitchen, Bedrooms and Bathrooms
KBB have a hot Design Notes section and we were chosen to feature in a Black and White profile they were running, although we'd never heard of KKB before this went out - it was nice to be recognised.
House and Garden
OK - we all know these guys, but I'll let you into a secret - they asked us to send in sample products for them to take photos, we though great! - However only a few samples came back - they loved our knives so much they must have kept them! Love it!
The Lady
Institutional, revered and we thought all about finding a nice little cottage in Provence for a holiday - Not so - The Lady Magazine has risen in our estimations since they took and interest in our Ceramic Knives, The Lady Loves - a Pink Knife!