Ceramic Knives Hit Facebook
Facebook HQ
Why you should follow us on Facebook
We're Rocknife, and we love sharing. In fact, we really do believe that sharing is caring. How can we put that another way? If you have done something great, clever or just plain good, then we want to tell people about it.
Facebook helps us to do that. It's not about us telling you what is happening here at Rocknife HQ and about our latest Ceramic Kitchen Knives products, but it's about you letting us know what you have been up to and in turn, us telling the rest of the Rocknife community what is currently amusing you.
The Trick with Facebook
We can't actually "like" you on Facebook, and that is really sad, as we would love to make all of you our friends. It's probably a good thing as there are bound to be plenty of things going on in your life that you don't want us to know about. Equally, you probably don't want to know everything about us either. It's just the way it is.
By "liking" our page however, we can provide the platform for you to share things with us. It is not necessary that these have to do with Ceramic Knives or Rocknife. It's just lovely to be able to give you the ability to share what you're doing with us. For example, have you though of sharing your charity raising appeals? Perhaps share that you have a new job? If it's your birthday, then we want to wish you well (and who knows, you might get a free gift) – Let us know, as there are dozens of reasons why it's worth "Liking" Rocknife on Facebook.
Explore what you can do with Rocknife on Facebook and, hopefully, we'll keep you and your friends and family entertained.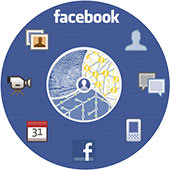 Our Facebook Explained
Liking Us On Facebook
We won't bite and there's no harm liking us. Occasionally, you'll see a snippet of something from us. You can choose to ignore it or to "like" it. Liking a page for you means it's an easier way to get in touch with us should you ever need to. We're here to listen and, if truth be told, the chances of you seeing some advertising nonsense from us is highly unlikely. We never "pay" to promote ourselves on Facebook. We're just here when you need us.
Sharing Content
Having deemed ourselves non-intrusive to your Facebook profile, there is, of course, nothing to stop you joining in with us. The main ways we offer for you to share content are these:
Liking – You are welcome to like anything you see on our Page. Some of your likes may appear on a friend's wall.
Commenting – We invite comments. We want to hear from you and your thoughts and we hope to reply to any comments you may leave for us to read.
Sharing – If you see something funny, cool or worthwhile on our Page, go ahead and share it with your friends and family. We won't chase them until they buy something from us.
Customer Service
We'd be wrong if we did not listen to your grievances on every platform you cared to air them on. Feel free to let us know your questions, queries, ideas and thoughts. Can we make our Ceramic Knives better? Sure we can. Can we improve our services? I am sure we can. Yet, we need to know where we might be going wrong and the best way to do that is by letting us know.
On the other hand, you could tell us how much you love our Rocknife Ceramic Kitchen Knives!