Ceramic Knives on Twitter
Twitter HQ
What Twitter Means to Rocknife
We are Rocknife and we love all things social. We rely on our followers and aim to build a high degree of Trust and Interest around our Brand.
Twitter is an essential tool that enables us to create the community we want around our customers and advocates. Twitter is not just a sales tool, but it is our way of saying thank you.
The Three Stages of Twitter
Rocknife has a belief that Twitter should be useful. It is one of the most powerful recent inventions known to man. If you do not believe us, just think of the Arab Spring uprising or what happens in your Elections. Twitter sways people one way or another and the influence you create is entirely down to you.
When we examined Twitter, we were stunned. The number of recipes, cookware, chef's, kitchen utensils, inventions, marketing ploys, events, foodie sites and specialists we found were truely amazing. However, that was only half the story - there is real expertise to be found out there, people sharing their knowledge in unimaginable ways. Modern technology has put the idea of passing knowledge down the generations on steroids.
What we have done is divide our Twitter into three separate sections and we'd love you to read these before you decide to follow us:.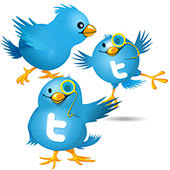 Our Twitter Explained
Stage One: Sales
We will not hide it. We are here to offer you the opportunity to become a Rocknife owner. We love our products and their design, their feel, their sharpness and their strength has made hundreds of people swear by them already. In kitchens around the world, people are reaching for their Ceramic Knife first before any other knife when it comes to preparing their cooking. All we want is for you to share that experience with us, so yes - we want to sell our Ceramic Knives to you. You will not be sorry.
So yes — when you first decide to Follow Rocknife on Twitter - we will unashamedly attempt to make you an owner of a truly beautiful product.
Stage Two: Customer Service
We believe in legendary, second to none, Customer Service and, as we grow, so will our service channels. So, can you think of a better way to service our customers than via Twitter? Just tweet us a message and we will be on it. We want to hear from you and want to hear both the good and the bad, whether it is a lost parcel, broken a knife, need advice on what Rocknife knives are good at, just tweet us and our Customer Service team will be there for you.
We have always believed that Twitter was there from the start to create a conversation between two real people. At the end of the day, that is precisely what we are about. We are real people behind the Rocknife Brand and you, our customers and advocates, are real people too.
Stage Three: Interest
Once you have joined our community and had all the answers you want from us, then we ask you to help us. We want you to become as passionate and as in love with Rocknife as we are. Yet, at the same time, we do not want to just be churning out adverts and "aren't we great" messages all the time. So, we are constantly looking for insights, tips, new information, more design ideas, things we like, things that make us laugh, smile, cry or go WOW!
Join us on Twitter and that is the sort of Tweets we will be doing. Then, if something does make you laugh, smile, cry or perk up, we would love it if you shared it with us.
We won't always get this right, but we will try to keep you entertained.
To Follow or Not to Follow
We cannot really make that decision for you, but if you own one or more of our Ceramic Kitchen Knives, then you should definitely be following us on Twitter. We will welcome you with open arms.
Otherwise, we gladly invite all chefs, foodies, kitchen moms and dads, food lovers and specialists, food writers, journalists and advocates to join us as we grow and expand our love for great designs in kitchenware.